Clown in Papendrecht? Clown Zassie completes your party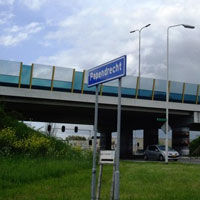 Looking for a Clown in Papendrecht? Clown Zassie Entertainment works thoughout the Netherlands and can supply you with profesional entertainment for children. Shows, schools and events: Clown Zassie has a solution for every event.
We also do birthpday parties in Papendrecht. Birthday parties are only done withing a 90 kilometer radius from Dordrecht. Papendrecht lies right next to Dordrecht, well within range.
We also provide balloondecorations in Papendrecht. If you have a large party, opening, anniversary, or any other festive occassion: we can provide you with bright and festive decorations. We do this in the form of balloonarches and balloonpillars.
Clown Zassie Entertainment has over 12 years of experience in hosting profesional enterainment for children. Theatershows and complete packages for large events and shopping centres: Clown Zassie can offer it all!
Who have preceded you:
Gemeente Papendrecht
Jeugdcentrum Interval
Powerpark
Visser & Smit Bouw
Wasko kinderopvang
Jamin Papendrecht
VSR
Basisschool 't Kofschip
many private parties
We hope to see you on your next party or event.